Doctors & Staff
Meet the experienced and friendly doctors and staff who make Purcell Vision Source a proud provider of vision care products and services in Purcell.
---
Stephanie Mendell, O.D.
Dr. Stephanie Mendell grew up in Durant, Oklahoma and graduated from Durant High School. She completed her undergraduate studies at the University of Oklahoma with a bachelors degree in Management Information Systems with a minor in Biology. She graduated with honors from the Northeastern State University Oklahoma College of Optometry in May of 2010. Dr. Mendell practices full scope primary eye care including ocular disease management, and is PRK certified. She and her husband Dr. Scott currently live in Washington. In her spare time she enjoys being mom to Josie, Ellie, and Ben. Dr. Steph enjoys all sports (mainly OU and the Thunder), spoiling her husband's bird dogs, entertaining friends, and going to the lake with her family. She is a member of the Goldsby Baptist Church.
---
Sara Madden, O.D.
Dr. Sara Madden was born and raised in Chickasha, OK and graduated from Amber-Pocasset High School.  She continued her education by obtaining her bachelor's degree in Nutritional Sciences at Oklahoma State University.  Dr. Madden graduated with honors from Northeastern State University Oklahoma College of Optometry.  Dr. Madden and her husband, Brandon, are happy to return to the area and watch their daughters, Bellamy & Blair, grow up surrounded by love and support from family and lifelong friends. 
---
Robert Bales, M.D.
Dr. Robert Bales graduated from the University of Oklahoma College of Medicine at Oklahoma City in 2003. He specializes in Ophthalmology, including the treatment of cataracts, glaucoma, and other eye diseases. Dr. Bales and his staff have been a welcome addition to our practice. While maintaining his own practice in Norman, he also visits our clinic once per month to provide our cataract patients with treatment options. Dr. Bales lives in Norman, and enjoys spending time with his wife and their children.
---
Alice, Patient Care Coordinator
Alice has been welcoming our patients with a smile at the front desk since 2016. Alice coordinates insurance and manages scheduling. Alice loves spending time with her husband, Scott and her sons, Easton & Jace.
---
Ashley, Technician
Ashley ensures all history and testing is complete during the patient's exam experience. She loves spending time with her kids, watching them play sports, and shopping.
---
Becky, Optician
Becky serves as our optician, and is responsible for ordering frames and lenses.  She has worked in optical since 2014. She enjoys spending time with her family.
---
Eden, Optician & Technician
Eden serves as an optician with Purcell Vision Source. Eden obtained a bachelors degree from ECU in 2018 by studying counseling and sign language interpreting. She enjoys going to concerts and traveling.
---
Maddie, Technician
Maddie works alongside the doctors to gather information for the patient's eye exams. She is a full time student at the University of Oklahoma, majoring in social work and minoring in psychology. She loves spending time with her family, and traveling with friends.
---
Marilyn, Optician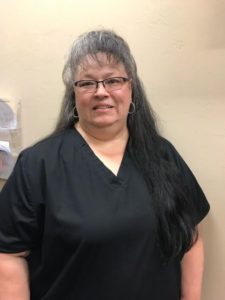 Marilyn has worked in the optical field for 33 years. She has experience in fabricating eyeglasses and fitting and dispensing eye wear. She loves spending time with family and friends, while watching Thunder games and Oklahoma football.
---
Paula, Insurance Coordinator
Paula has worked in eye care since 2015. Paula loves spending time with her husband Ryan and her two boys, Mason & Cade. Paula enjoys all sports and can usually be found on a ball field or a track cheering her boys on!
---
Sabrina, Patient Coordinator
Sabrina has been with Purcell Vision Source since 2018. She is a mom of three boys that keep her very busy! When she is not spending time with her family or working she loves to craft and do event decorating.
---
Victoria, Technician
Victoria began working at Purcell Vision Source in August 2016. She makes sure patients receive efficient care, and also specializes in contact lens training and diagnostic testing. She enjoys shopping and spending time with her family.